Join our team at Strawberry Fields Lifton
Watch the video from our team about what its really like to work at Strawberry Fields Farm Shop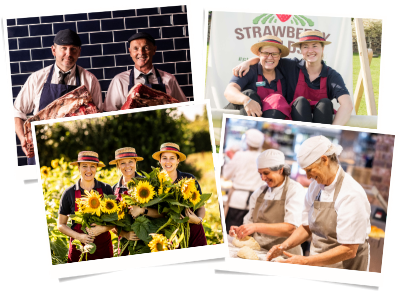 We pride ourselves with our happy, enthusiastic and welcoming staff..
Always there with a smile and to meet the needs of the customers. Lifton Farm Shop is a jolly and fun place to work with exciting staff outings and bundles of laughs. Customer service is to a very high standard and staff are trained to care for the customer at all times. Do you sound like you could provide the top quality customer service and would like to join our friendly enthusiastic team?
We are recruiting in all areas from our bakery, farm shop, restaurant, butchery to the kitchen! Get in contact! Email your CV and covering letter to info@strawberryfieldslifton.co.uk
Can't see a job for you but want to work for us? Get in touch and we can notify you when an relevant vacancy comes up.
Are you passionate about great customer
experiences and local wholesome food? Join our team!
CAN'T FIND WHAT YOUR LOOKING FOR?
If you're keen to work at Strawberry Fields Lifton, but you can't see anything above that fits with your experience or aspirations, we would be happy for you to send a copy of your CV so that we can contact you if a relevant vacancy comes up in the future. Simply email your CV to info@strawberryfieldslifton.co.uk